So I got bored after a few hours of watching GoAnimate videos and looking at Wikipedia Adventure, and so I decided to get some fun on and whip up this lucky charm image.
Check it out!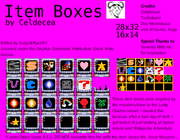 Credits go to Dolphman for the Monitor Base, Techokami for the item screens, Doc Melonhead and Sega.
Special thank yous go to General Mills.
Now here are what each charm means:
Heart - Bring things to life
Star - Flight
Horseshoe - Extra Speed
Clover - Extra Luck
Blue Moon - Invisibility
Unicorn - Color the world
Hourglass - Turn back time
Rainbow - Teleport anywhere
Red Balloon - Float through the air
This was supposed to be correct, but since Open Surge doesn't have all that
, we can't deem it correct. But here's the correct meaning. And by that, I mean, what each charm really means.
Heart - +10 Collectibles
Star - Invincibility
Horseshoe - Extra Speed
Clover - Extra Luck (+50 Collectibles)
Blue Moon - Similar to magic glasses, allows you to see and collect blue batteries.
Unicorn - Unused
Hourglass - Turn back time, also unused
Rainbow - Acts like acid shield
Red Balloon - Acts like wind shield
The other charms are just shields.
So what do you think? This will be used in Ryan Forces and Power of the Charms. If you want to use it, feel free. But if you use Open Surge Engine 0.5.2, DO NOT OVERWRITE THE ITEM_BOXES FILE!!! Keep the charm_items filename as is. Thank you and have a nice day!
Last edited by Sur6e&Ryan!01 (2021-03-03 12:45:04)